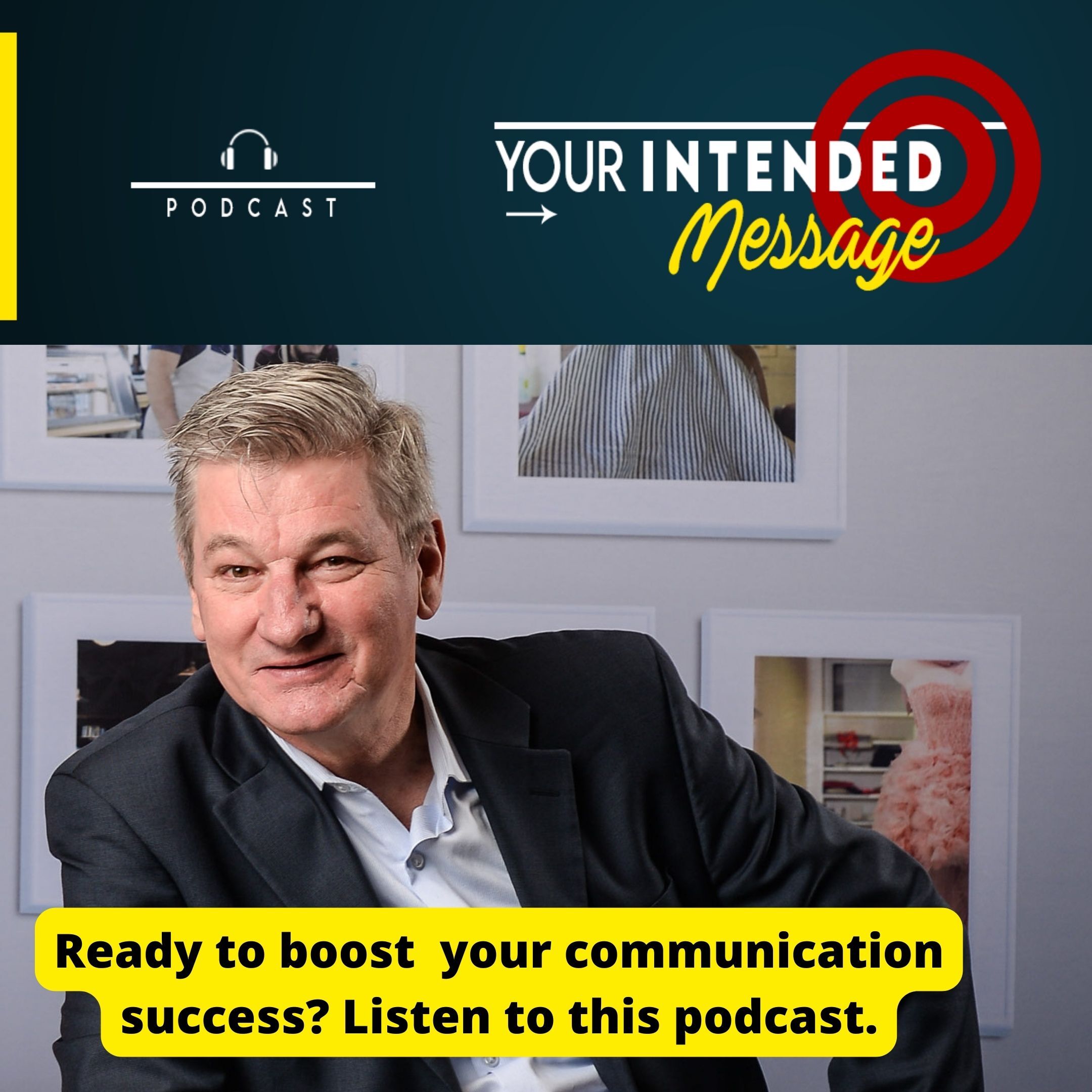 Are you a business leader or promising business leader that wants to boost the power of your communication skills? Are you willing to cross-examine communication from various perspectives? Would you like to deliver your intended message more effectively? Listen to Your Intended Message to gain a powerful advantage in your ability to convey your message to your audience, team, clients or marketplace. Learn from the mistakes and success of communication experts from around the world from different scenarios. Imagine what that means to you when you improve the success of your next conversation, presentation or message.
Episodes
Thursday Feb 09, 2023
Thursday Feb 09, 2023
Are you clear on the difference and interference between your intended and unintended messages?
Episode 133
In this episode, George Torok offers his insights about:
What are the two blended components of the whole message?
What are the filters that might distort your intended message?
What is that static that can sabotage your intended message?
What are the elements that generate the unintended messages?
George Torok is a specialist in communication skills. He coaches executives to deliver their message more successfully. That might be in conversation or presentation.
Learn more about his programs and the results of his clients at 
https://www.speechcoachforexecutives.com/
-----
Excerpts from this episode:
Today, let's look at the title of this podcast, your intended message. That is part of the message that you send. When you send a message.
Did you know that there are two distinct parts not so distinct, mixed together within your message, your whole message is actually a blend of your intended message and the unintended messages. Let's look at the challenges of both. And once you are aware of these challenges, you can deal with them more effectively, and communicate more successfully. Start let's start with the intended message.
The intended message, of course, is the message that you want to send you hope to send and you believe you sent. However, it's not necessarily the message that was received and understood. And you can probably guess why is that the case? Well, here's four possible reasons why your message might not get through the intended message might not get through one.
Perhaps you failed to clarify your message before sending. And this is a common mistake when it's more common when speaking than writing, we can do it in writing. The good news about is when you write a message, you have time to review and edit before you send. And if it's a particularly thorny message, you might be wise enough to write it, review it, put it aside for a day and come back to it the next day where you can review it and edit and maybe not send it at all.
However, when you're speaking, the danger is you don't have the opportunity to edit unless you have prepared and rehearsed this message that you are delivering, which I suggest you do whenever you can.
So perhaps the first reason why your intended message doesn't get across is maybe you simply failed to clarify your message before sending clarify your message before you start speaking. And that might mean pausing and thinking before you speak.
-----
To you, it's a mess. To me, it makes sense. And your head. What's going on your head makes sense to you, because you've had all your life to get used to the mess in your head.
And when you want to send a message, you need to take that message in your head, convert it into words, speak the words, they hear the words and convert it into the mess in their head, there's a couple of translations going on. Good opportunity for things to go wrong. And one of the areas of things might go wrong, is the filters that we use, to that we put your message through before we even consider it.
And the filters, we have filters, we filter your message because we are bombarded by messages every day. And we need to make quick decisions. And sometimes those filters work against you getting your intended message across.
What are some of those filters? Well, the first one is beliefs. What are the beliefs that they have? The beliefs they have about you, your company, your organisation, the group you hang around? When what beliefs the topic, your topic, you're talking about that you're telling them? What do they believe? How do they believe differently? And are you addressing those beliefs? Are you clarifying the message,
-----
Your host is George Torok
George is a specialist in executive communication skills. That includes conversation and presentation. He's fascinated by way we communicate and influence behaviors. He delivers training and coaching programs to help leaders and promising professionals deliver the intended message for greater success.
Connect with George
www.SpeechCoachforExecutives.com
https://www.linkedin.com/in/georgetorokpresentations/
https://www.youtube.com/user/presentationskills
https://www.instagram.com/georgetorok/
For weekly tips to improve your presentations visit