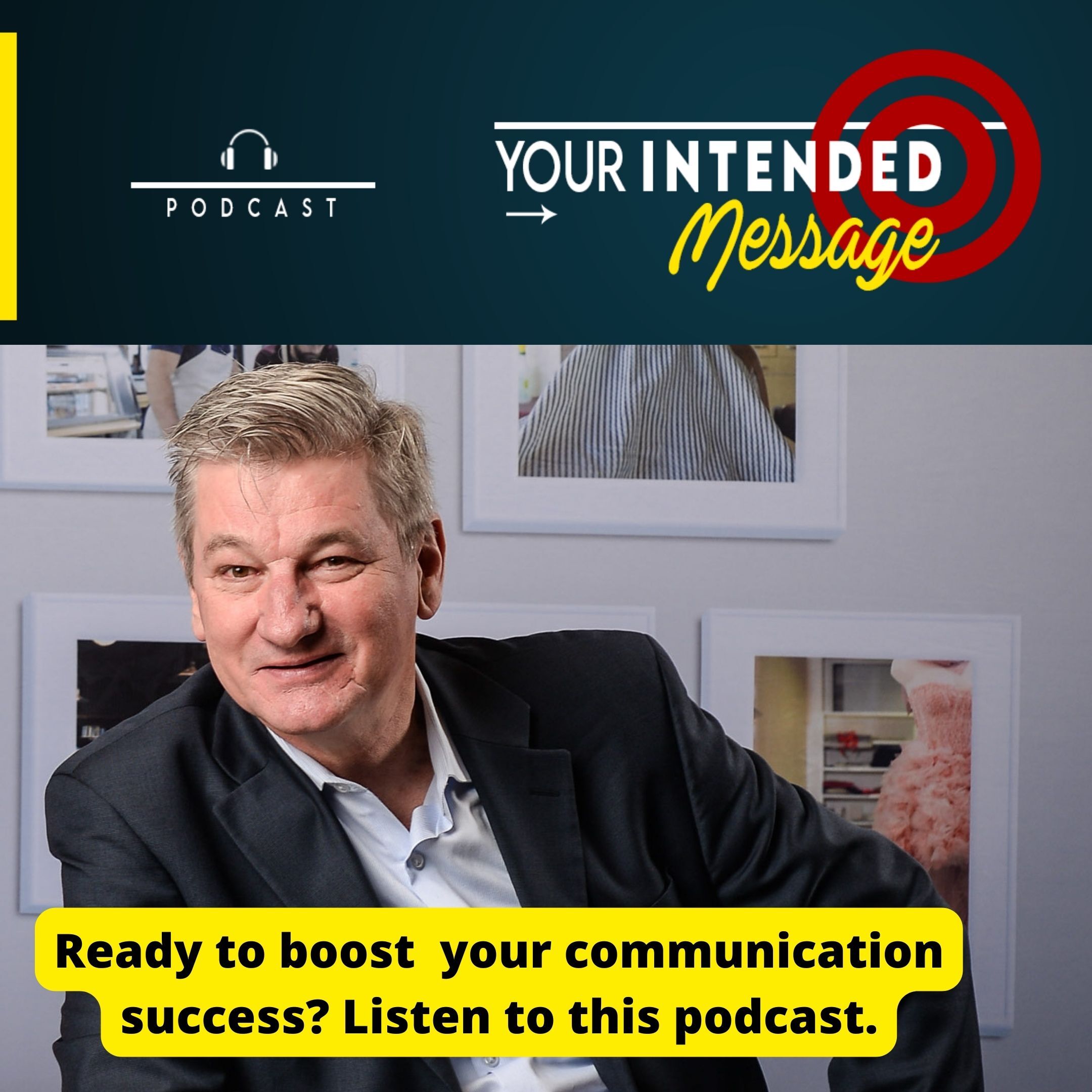 Are you clear on your intended message? Are you aware of the possible unintended message? What's the gap and why the gap? If your listener, audience or target market didn't get your message as intended, who needs to change? Business communication can be highly exnihilating when it succeeds. It can also be deeply frustrating when it fails. In this podcast you will hear stories of success and stories of woe when it comes to communication. You can learn from the success and mistakes of others to improve your success as a business communicator. Imagine the difference when your intended message gets delivered and received more often.
Episodes
Thursday May 05, 2022
Thursday May 05, 2022
You can have more influence, persuasion or close deals faster
Understand personality styles and leverage the data about persuasion
Benjamin Bressington offers insights into the science of persuasion and selling based on behavioral research.
Episode 93 (Ben is an Australian living in Florida)
In this conversation we explore:
Why AIDA is a selling model that is out of date (150 years)
The difference between closing and committing
Key questions to ask to tap their emotional needs
The bird conflict that you need to understand to avoid
The common theme between professionals sales people and start athletes
Why you should record your sales conversations 
The role of data in selling
About Benjamin Bressington
Ben applies lessons from criminology and gamification to help companies and sales people close deals faster.
Ben is the CEO of Behavior Sales, a leading personality intelligence company.
His latest book is "People Ignorant: Unlocking Success, Confidence & Influence."
Learn more about how you can use the Behavior Sales techniques to boos your sales at www.BehaviorSales.com
Download your free copy of the Behavior Sales book free download
Excerpts from this conversation with Benjamin Bressington
The worst thing you want to do in handling an objection is go feature benefit feature benefit because people become product pushers and not problem solvers.
02:28
It was designed for a different type of consumer behaviour. And one of the things is, you need to understand what we call sales resistance.
And a lot of the things people are doing in today's communication is creating unintended resistance, hence, you get ghosted. Hence, people go, Hey, that sounds interesting. Will you send me a flyer? Will you send me an email?
That's them brushing you off? Because what's going to happen next, they're going to ghost you, right? So the thing is, is people need to be aware of the words, they're saying how they're saying it because you're actually creating subconscious emotional resistance, which we call sales resistance, and therefore, you're actually sabotaging your own sales.
So you can do this with body language, and you can do it linguistically. And that's what we're why we're sharing so much about behavioural intelligence, and how this has really changed.
There's the old school of selling. And now there's the new school of selling, which actually uses data to actually provide people with a feedback loop on how to improve their communication.
-----
Ben in wrapping up, if you could offer a sales leader, one, two or three bits of advice, and maybe it's something you've already said, but they're gonna they're gonna go meet with 13 for a sales meeting, and what might they be saying about we're going to change the way we're selling.
And here's what I want you to do. Number one, is start addressing personality, understand personality and understand how to have personality driven conversations to create the connection to is look at how you're using your sales rep. recordings.
A lot of people use record calls, but never do anything with them. They don't create, we can actually help a company create a winning conversation baseline that allows you to compare every conversation you're having against that to find out well, was my tonality different was my questions different, that type of stuff, right?
So out like we've got immense data you're not even using. So therefore you're losing massive amounts of data.
And three would be starting to look at how you're using persuasion. Are you using external or internal and if you're still using external I can promise you your sales are being killed.
-----
Your Intended Message is the podcast about how you can boost your career and business success by honing your communication skills. We'll examine the aspects of how we communicate one-to-one, one to few and one to many – plus that important conversation, one to self.
In these interviews we will explore presentation skills, public speaking, conversation, persuasion, negotiation, sales conversations, marketing, team meetings, social media, branding, self talk and more.
Your host is George Torok
George is a specialist in communication skills. Especially presentation. He's fascinated by the links between communication and influencing behaviours. He delivers training and coaching programs to help leaders and promising professionals deliver the intended message for greater success.
Connect with George
www.SpeechCoachforExecutives.com
https://www.linkedin.com/in/georgetorokpresentations/
https://www.youtube.com/user/presentationskills