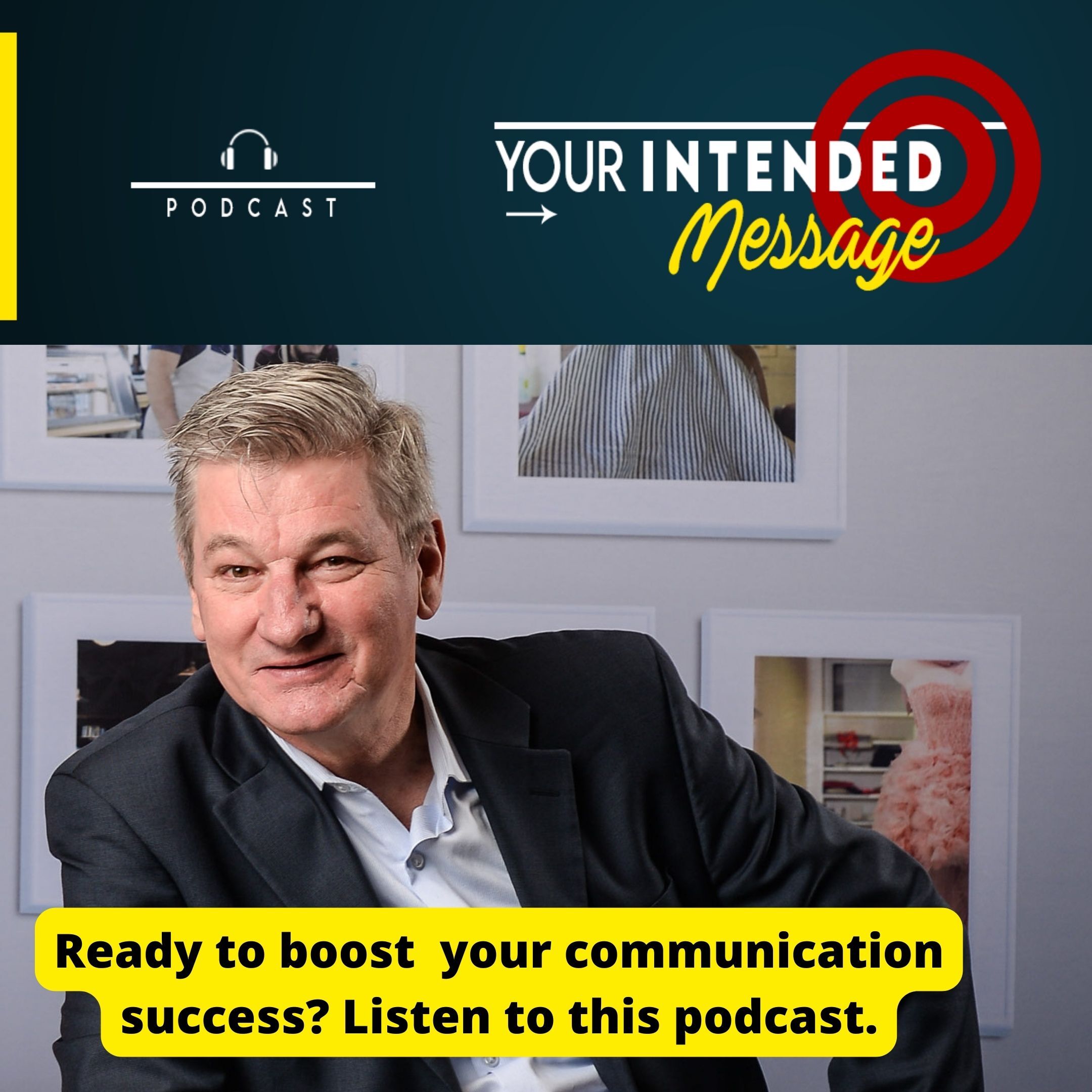 Are you clear on your intended message? Are you aware of the possible unintended message? What's the gap and why the gap? If your listener, audience or target market didn't get your message as intended, who needs to change? Business communication can be highly exnihilating when it succeeds. It can also be deeply frustrating when it fails. In this podcast you will hear stories of success and stories of woe when it comes to communication. You can learn from the success and mistakes of others to improve your success as a business communicator. Imagine the difference when your intended message gets delivered and received more often.
Episodes
Thursday Mar 31, 2022
Thursday Mar 31, 2022
Build stronger teams that work in-person, virtually and hybrid
Effective teams face and overcome the challenges, while weak teams use the challenges as excuses
Anne Thornley-Brown explores the challenges and paths to effective team building. She reminds us that team members need the confidence to tell the emperor he has no clothes.
Episode 88 (Anne is based in Toronto, Canada)
In this discussion we explore:
The challenges of virtual and hybrid teams
The difference between socializing, recreation and enhancing communication skills
The silliness of some team-building exercises 
The danger of group think and dominating personalities
Why we need to listen to the minority viewpoints
The opportunities of new technology including virtual worlds
Why it's critical to diagnose the problem correctly before deciding on the solution
Who else should you include on your team that you might be missing?
About Anne Thornley-Brown
Anne is the founder and owner of Executive Oasis International.
This Toronto-based team-building firm has designed and facilitated executive retreats, meetings and team building for companies from 19 countries
She is also a professional actress, and an emerging novelist seeking a literary agent for her first two novels.
Anne and her team at Executive Oasis International help organizations build stronger teams around the world.
Learn more about the team building programs at www.ExecutiveOasis.com
Excerpts from this conversations with Anne Thornley-Brown
02:56
Tell us what some of those challenges are, particularly during the pandemic.
03:03
Well, the biggest challenge, of course, is working from home. And, and building a cohesive unit, when you're not seeing each other face to face every day.
Silos were a problem long before the pandemic, but now that people are spread out and they're not engaging face to face, they becoming even more entrenched.
03:27
Have you (to overuse the word) pivoted your building exercises to include hybrid and virtual teams.
03:39
Absolutely, it was essential you and I both live, the Greater Toronto Area. And in Canada. For the past two years, we've had meeting bans, travel bans.
Some venues have had to close. I was speaking with one of the resorts that I've used, and we just came back out of another lockdown two weeks ago. And they just closed down because they couldn't open their dining or their meeting rooms.
So they rescheduled all of their corporate business. It became essential to make virtual and now hybrid options available to clients.
-----
10:17
Those who are waiting to get back to normal before we start training again, or building the team, what's your advice to them?
10:28
Don't wait. And the other thing is don't think that throwing a recreational activity at your team is going to solve your issues of communication.
It's not going to happen. It's not going to resolve conflicts. I've seen companies doing things like ukulele lessons and virtual escape rooms.
Now, please don't get me wrong. I'm not a party pooper. I'm Jamaican. I love to party. I love to dance. I love to have fun. But there's a time and place.
And that type of activity, while it has its place is not a substitute for doing the targeted and focus work on building your teams.
I don't know, George, you go into corporations. Have you observed this tendency to? Well, how do they put it fiddle while Rome was burning?
11:20
Yeah, you're right. And and I'll tell you the one that the the activity that that irks me the most, it's we're going to have a team building exercise, and we're going to  go Axe Throwing,
-----
32:31
And in wrapping up, if you could offer team leaders, one, two or three pieces of advice on what they can be doing right now, to reinforce their team, to keep their team cohesive. What might be that one, two or three pieces of advice.
32:51
One thing I would say is, I was I worked for an organization and the CEO was brilliant, he would have these things called breakfast with Bob, where he would bring frontline people in to have breakfast with him.
And he would listen to them. He would hear what they have to say about what was going on with their clients.
And in the industry. We can still do that virtually. I mean, let's get creative folks. Yes, we can have a virtual breakfast, where we meet via technology and tech, we can send the breakfast to the homes of the various team members.
In Ontario. we just opened up dining rooms two weeks ago, restaurants and caterers are hurting, they need the business to stay afloat. Let's get creative. And in that way, we will help keep the local economy afloat.
So that's the first thing have sessions in which your senior people are actually interfacing with your frontline people, but has to go further. We need to also hear from our clients.
We need sessions like that where clients are letting us know what their main concerns are, and how we can improve what we're offering. And the other piece is a whole supply chain.
That's one thing that COVID-19 has brought to the fore, not just for manufacturers, even for services supply chain is critical. We need to talk with our suppliers regularly.
And I do think that leaders would benefit from having some sessions where they include suppliers and clients. In fact, I have some clients who do that whenever they do team building, whether it's face to face hybrid or virtual.
They do invite some clients and they do invite some suppliers. And let me tell you, it makes a huge difference.
-----
Your Intended Message is the podcast about how you can boost your career and business success by honing your communication skills. We'll examine the aspects of how we communicate one-to-one, one to few and one to many – plus that important conversation, one to self.
In these interviews we will explore presentation skills, public speaking, conversation, persuasion, negotiation, sales conversations, marketing, team meetings, social media, branding, self talk and more.
Your host is George Torok
George is a specialist in communication skills. Especially presentation. He's fascinated by the links between communication and influencing behaviours. He delivers training and coaching programs to help leaders and promising professionals deliver the intended message for greater success.
Connect with George
www.SpeechCoachforExecutives.com
https://www.linkedin.com/in/georgetorokpresentations/
https://www.youtube.com/user/presentationskills